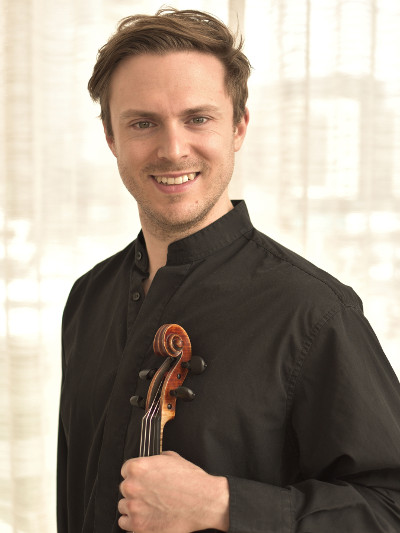 Charlie was born in London in 1989 and began learning the violin at the age of six under Aidan Massey and later with Sheleigh Webb. At the age of 11 he was accepted into the Royal College of Music Junior Department, studying under Erik Houston. At the Junior RCM, Charlie led their symphony orchestra, took part in various chamber music activities which involved public performances and studied conducting part time under the renowned conductor Richard Dickins. Outside of RCM, Charlie led Orchestras including the Surrey County Youth Orchestra and the Reigate String Orchestra. Charlie was a member of the National Youth Orchestra of Great Britain and the Redhill Sinfonia. In 2006, Charlie was awarded the Aidan Massey Memorial Prize for services to Surrey County Arts. In the same year Charlie was awarded a place at the Purcell School of Music, where he spent his sixth form years. It was also at Purcell where Charlie discovered and developed his passion for jazz, studying under Simon Colam and composing his own jazz repertoire. In his final term at the Purcell School, Charlie conducted the Purcell String Chamber Orchestra in performance of Tchaikovsky's String Serenade and Debussy's Danses Sacrée et Profaine for Harp and String Orchestra.
In 2008, Charlie began his undergraduate Studies at the Royal Northern College of Music, where he studied with the Internationally renowned Maciej Rakowski. It was also at the RNCM where Charlie was able to explore further his lifelong passion for chamber music, giving performances around the UK and Wales in venues including London's Wigmore Hall with the Aves and Torre Quartets. Charlie has taken part in public masterclasses with distinguished musicians such as Ivry Gitlis, Yair Kless, Gabor Tackacs-Nagy, Ani Schnarch, Katherine Macintosh and the Gould Piano Trio. Charlie works as a freelance musician, working in all parts of the UK with, to name a few the London Pops Orchestra, Surrey Art's Melody Line Orchestra and in pit orchestras in performances of shows such as Dogfight by Pasek and Paul, Gilbert and Sullivan's The Mikado, Purcell's Dido and Aneas, Britten's The Little Sweep and Noel Gay's Me and My Girl. Charlie has worked with numerous distinguished jazz and contemporary musicians including Alexander Markov, Tim Garland, Gwilym Simcock, Asaf Sirkis, Astilerro Tango, Bobby Wellins, Don Weller, Christian Garrick, Martin Taylor, Guy Barker, Colin Matthews and Simon Colam. Television appearances include with the National Youth Orchestra, ITV's 'The X Factor' and the Royal Variety Performance. Charlie regularly performs with the comedy string quartet 'Graffiti Classics,' with whom he plays on cruise ships and other venues, combining classical music, singing, comedy and movement.
Charlie currently resides in the Southampton area with his wife and cats and recently toured Germany with an ABBA! tribute group. Charlie now owns a thriving sports massage therapy practice and loves to work out at the gym!